a tense battle
In the second sphere of light people have a strenuous battle to completely let go of the material thinking and feeling.
By
Ludo Vrebos
, based on the
books
by
Jozef Rulof
.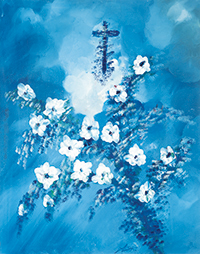 In the second sphere of light there is a clear blue sky without a single cloud.
The firmament is like a stretched balloon which can tear apart at any time.
All of the nature reflects the inner state of the inhabitants, who are considerably attuned to going higher.
There are no longer any people resting for years as in the first sphere.
Each inhabitant of the second sphere works hard to release himself completely from the earthly feeling and thinking.
They experience strong opposition from their own self, because they have attuned themselves to going higher.
The battle that is fought is to enter the spiritual from the material.
The higher the human being comes, the more intense this battle becomes, because the spheres become finer and more rarefied, and the human being must attune himself inwardly.
They continually test their inner condition.
They start to attune all their thoughts and words to love and truth, to the reality of the cosmos.
Sources and deepening